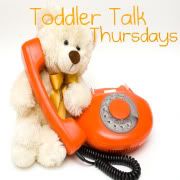 First off, I'd like to thank the Toddler Talk Moms for highlighting my blog this week! It really made my day.
Now, this week's topic is games. Davis LOVES games of all kinds.
He started off with things like peek-a-boo and what we liked to call "I'm gonna squash Daddy"
Which later progressed to "I'm gonna use Daddy as a jungle gym"
Yes, he was watching wrestling with us in that video, he's always loved it.
He has always been a sports fan, lately his favorites are soccer and baseball.
I've recently started doing a lot of flash cards with him which he loves. They're not really a game, but he thinks they're fun so I think it counts. We have seasons, animals, letters, numbers and sight words flash cards. He's not quite ready for the sight words yet, I just show him the picture and then the word so he connects that the word goes with the picture.
I'm really excited that he's getting to the point where he's about ready for actual board games now. I plan to get him one or two for Christmas this year, I just don't know which ones would be best to start with. I'm making my own memory/matching game with pictures from his coloring books. We'll be trying that one out this weekend, I can't wait to see how it goes.